The Duke and Duchess of Cambridge began their tour of Sweden and Norway, spending the day in Stockholm. 
The day began with a game of bandy, a hockey-like sport that originated in Cambridgeshire but is now one of the most popular sports in Scandinavia. William and Kate had a go at the game and watched a children's match at an ice rink near the city center.
After an outfit change, William and Kate met with the King and Queen of Sweden, as well as Crown Princess Victoria and Prince Daniel, at the Royal Palace of Stockholm. Many royal watchers were keen to see Victoria and Catherine meet and hopefully become friends!
Another outfit change (yay for all the amazing fashions today!), then Victoria, Daniel, William, and Catherine went on a walkabout through the city. Kate looked more like a Scandinavian princess for this event!
In the evening, William and Kate attended a glittering gala. Kate looked like a Scandinavian fashionista in a bold floral gown by Erdem.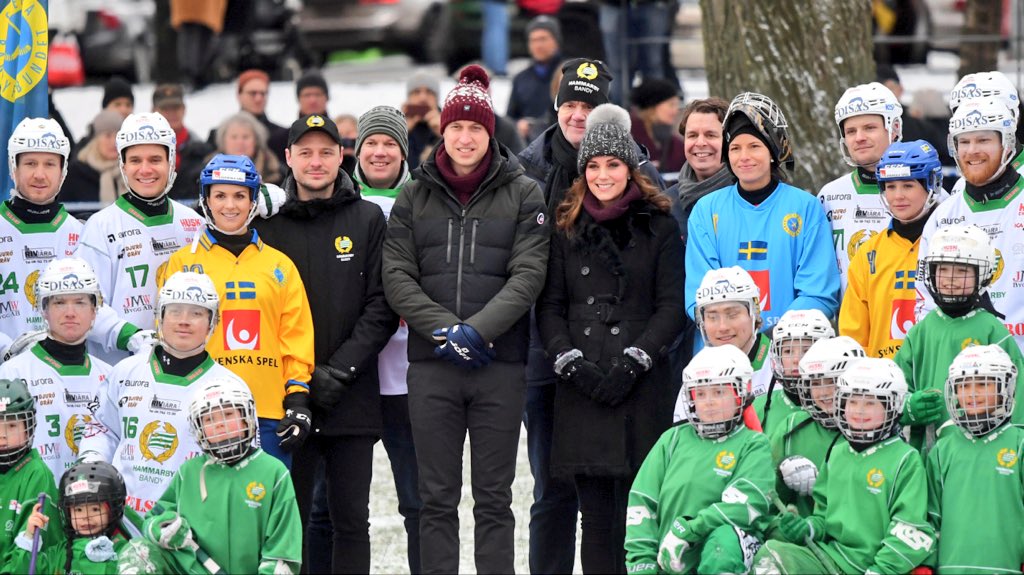 Look 1: Bandy in the City Centre
Coat: Burberry "Toddingwall" Shearling Trench Coat
Sweater: Fjallraven Ovik Folk Knit Sweater
Boots: Sorel "Torino" Waterproof Ankle Boots
Hat: Eugenia Kim "Rain" Faux-Fur Trimmed Beanie
Gloves: John Lewis Suede Faux Fur Trim Thermal Gloves
Scarf: Brora Cableknit Snood in "Bordeaux"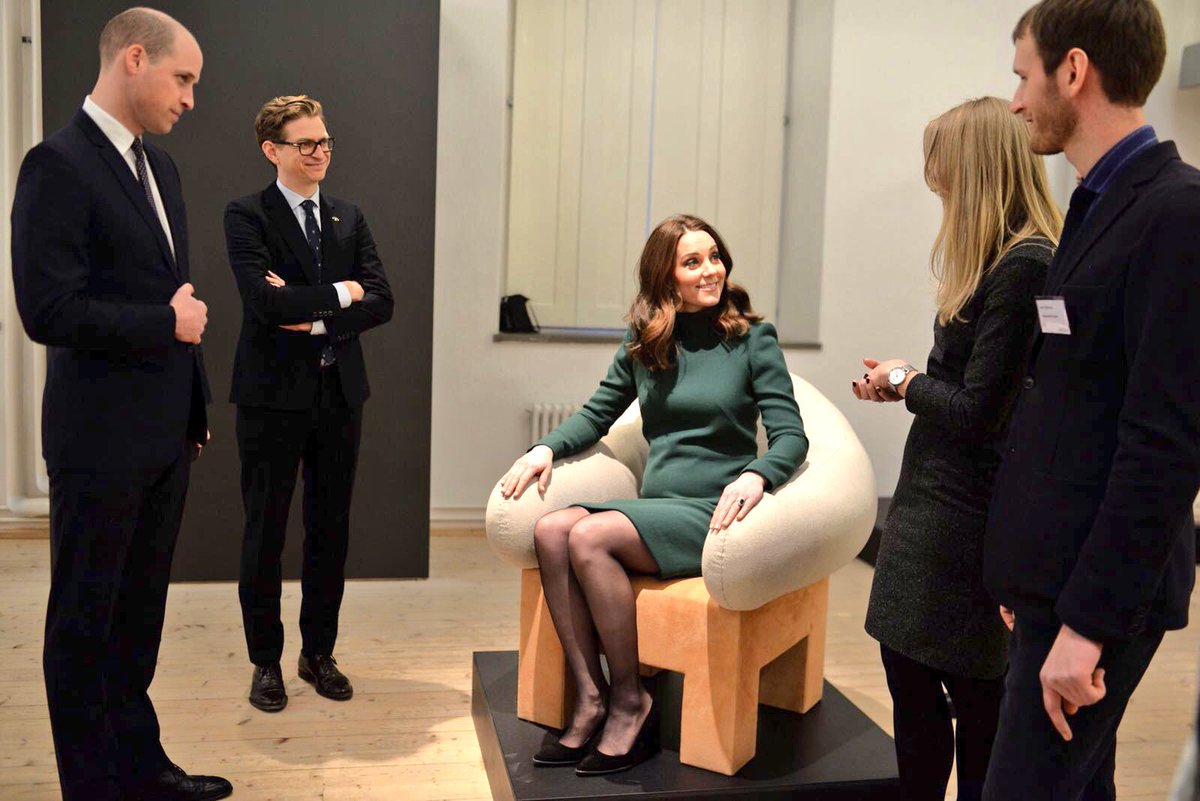 Look 2: Lunch at the Palace and Touring the Museum
Dress: Catherine Walker bespoke "Bea" dress
Earrings: Kiki McDonough "Special Edition" earrings
Shoes: Tod's Black Suede pumps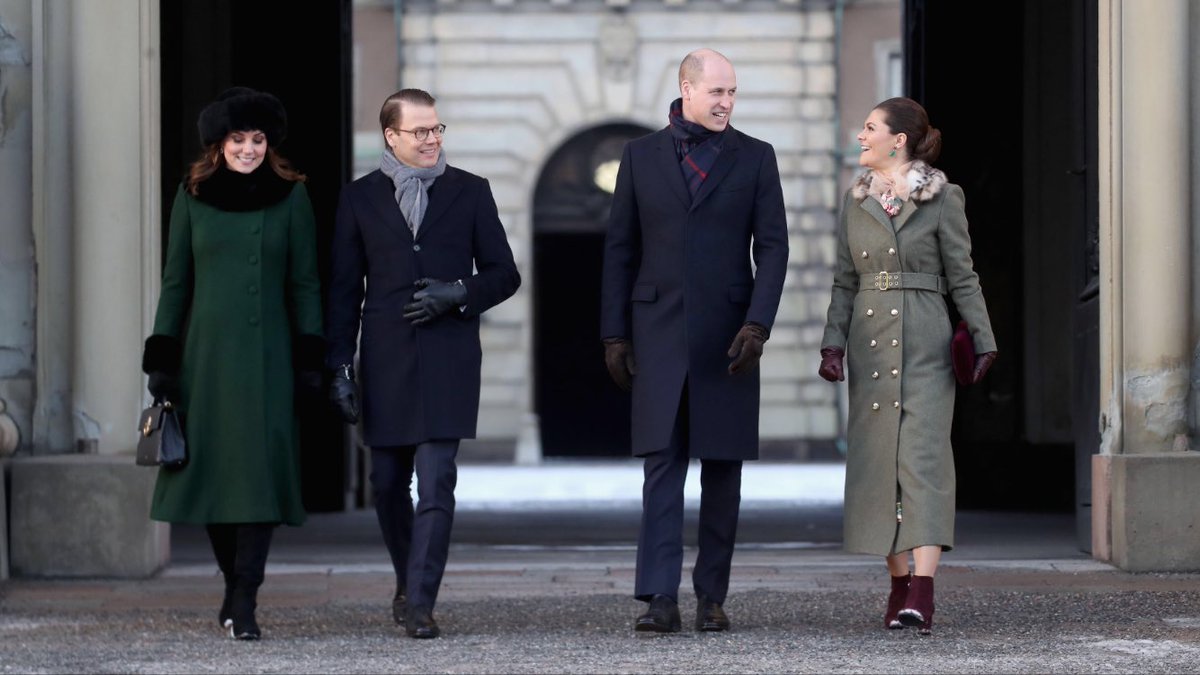 Look 3: Fur-trimmed Winter Coat
Coat: Green wool coat
Collar and cuffs: Troy London
Hat: Peruvian Connection alpaca fur hat
Shoes: Stuart Weitzman Halfnhalf suede boots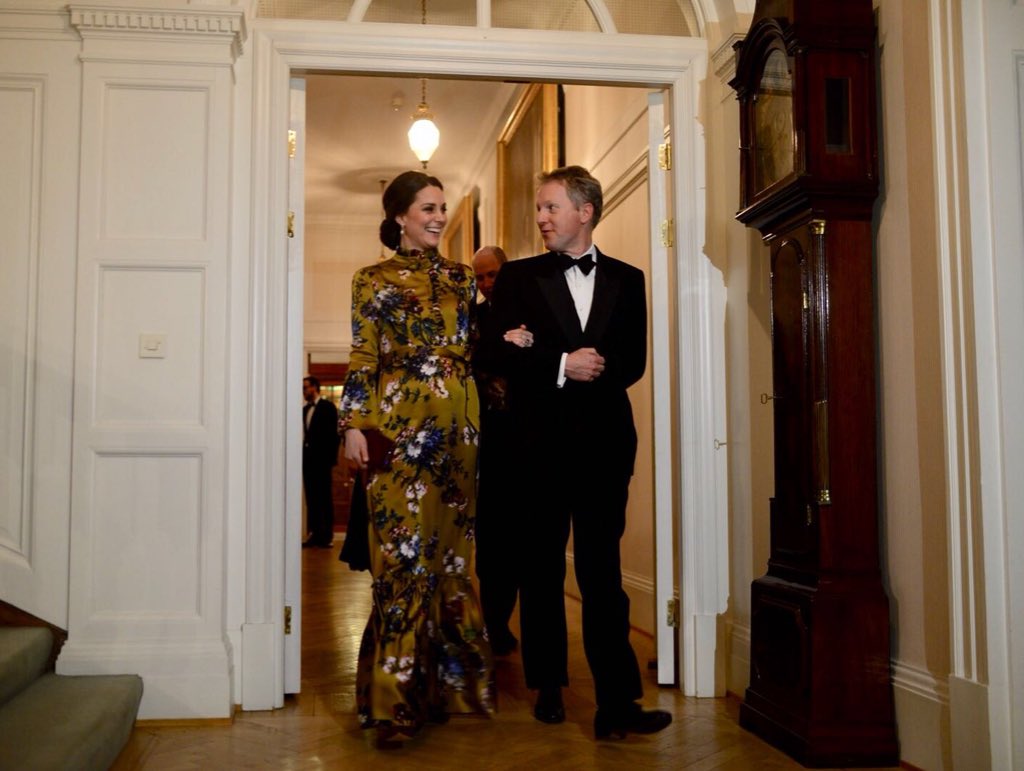 Look 4: Floral Evening Gown
Gown: Erdem "Stephanie" gown
Earrings: Princess Diana's Collingswood Earrings
Christine is the editor of What Would Kate Do? and The Refined Side. When she isn't writing, she can be found reading with a cup of tea. Her interests lie in history, etiquette, and consumer culture. She resides in Washington, D.C.
Latest posts by Christine (see all)