As Madonna says: "The show is over, say goodbye"…to Summer that is! Yes that is right my loyal subjects, September is here and we welcome the beginning of a busy royal calendar!
This Week:
September 1- Not just your average family dinner! The word on the royal beat is that on September 9th, the Queen has requested the presence of the Duke and Duchess of Cambridge in Balmoral, for a close family dinner to celebrate surpassing Queen Victoria as the longest British reigning monarch. This definitely calls for extra pudding!
September 3- Happy Birthday to US!! on Thursday, What Would Kate Do? celebrated its 3rd birthday! From a baby-faced infant to a well-rounded toddler, we have grown into a wonderful community that brings us joy everyday. This month will be filled with lots of treats, so be sure to scroll down below…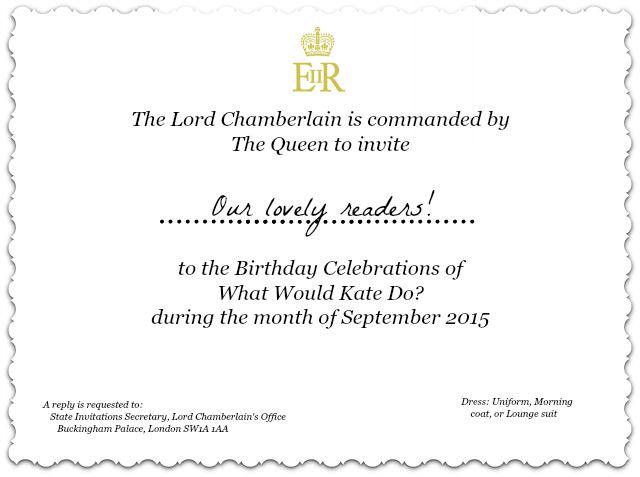 September 4- She's back in action! On Friday, it was announced that Kate's first official engagement since the birth of Princess Charlotte will be to visit the Anna Freud Center on September 17th. The London based charity focuses on children's mental health issues – a cause near and dear to Kate's heart.
Next Week:
No Scheduled engagements…check back again soon!
Celebrate our birthday with Jemima Vine!
Jemima Vine flats are a favorite with Kate's sister Pippa – she has been spotted wearing the stylish flats in almost every color! When Jennifer Markham, the founder of Jemima Vine, reached out to WWKD we were instantly delighted.
Their "Edie" flats are synonymous with their brand – along with Pippa, other posh London ladies, like Made in Chelsea star Ashley James, adore the stylish comfort of the brand. They are designed in London, made in Spain in a small family-owned shop, and crafted from fine Italian leathers.
We tried them for ourselves to see if they were really up to the hype. Jennifer says that the shoes are made so that they mold to the shape of your feet, provide comfort, and last for ages. Initially the shoes felt a bit tight – and then something magical happened. After about the second breaking in session they felt like they were painted on my feet in a perfect fit.
What would Kate wear? She would definitely love the Ink Blue suede pumps – perfect to pair with a navy blazer and breton stripes! They're also a great pair of shoes for fall with skinny jeans and a houndstooth blazer.
To celebrate our third birthday, Jemima Vine is offering WWKD readers a 20% discount off their purchase along with free international shipping! Simply enter the code WWKD20 at checkout. 
Latest posts by Previous Contributors (see all)