Today, the Duchess of Cambridge carried out a series of engagements in Kensington. The Duchess didn't have to go far from home (and CHEEKS!) to visit three organizations this morning.

First, Kate attended a coffee morning with Family Friends UK. She met with the organization's staff, volunteers, and families who benefit from the work of the charity.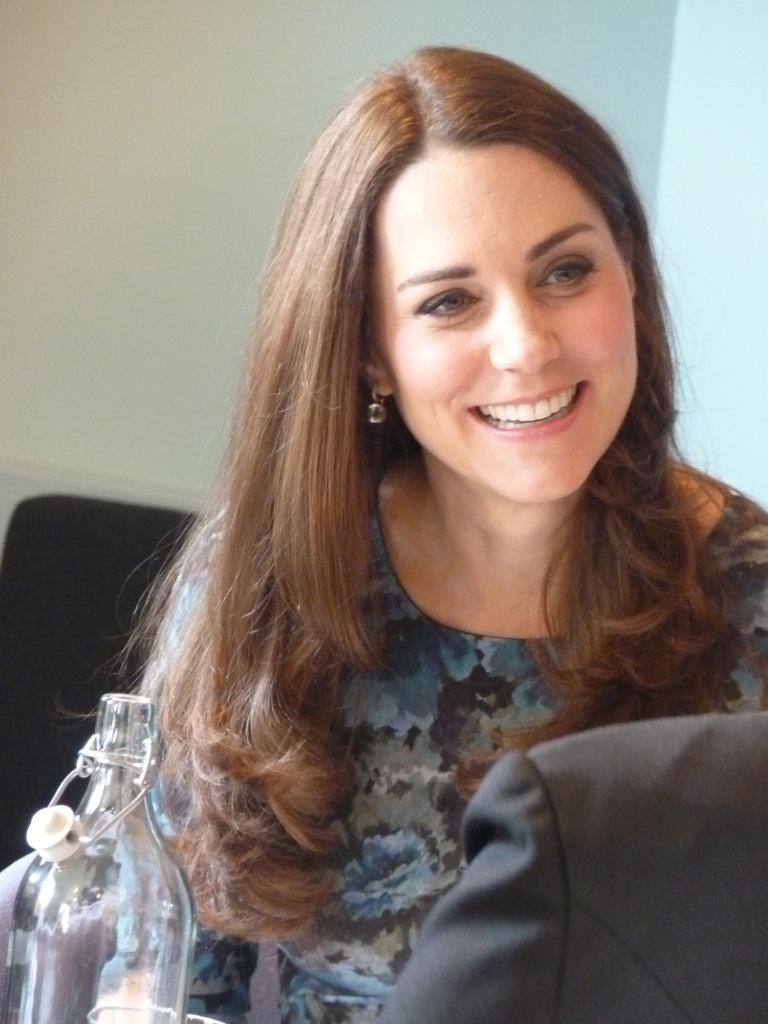 Image via @RE_DailyMail on Twitter
Family Friends UK is an incredible charity that supports families and children, usually in inner-city areas, with much needed support. Volunteers visit their home once a week to provide "long-term practical and emotional help based on each family's unique needs and potential".

Flora Taylor, Chief Executive said: "We are delighted that The Duchess of Cambridge is visiting Family Friends and meeting some of our volunteers and families. As a small, niche charity providing a vital service in deprived parts of West London, a Royal visit is a huge boost and will hopefully encourage more people to volunteer and support struggling families in their community."
While there, Kate was given a bouquet of flowers from young Ryan Dixon. Rather than presenting the bouquet to Her Royal Highness, Ryan burst into tears! It was a very sweet moment (although perhaps not for Ryan).
While the Duchess of Cambridge is not a patron of Family Friends UK, it is another wonderful charity that would benefit from a royal patronage.
The next stop of the day was to visit the Kensington Aldridge Academy. During her engagement in 2011, William and Kate opened the first Aldridge Academy in Darwen. Today, the Duchess opened the sixth Aldridge Academy in Kensington.
The Aldridge Academy provides crucial education to children from all backgrounds. They focus of entrepreneurial leadership, allowing each student to take control of their education, life, and future regardless of their socioeconomic status.
The Duchess of Cambridge toured the new Kensington Aldridge Academy, met with the principal, students, and staff, and even sat in on a history lesson. She enjoyed a theatrical presentation before unveiling the official plaque, which marks the official opening. She also visited the academy's Creates Hub for young entrepreneurs, and met students who are designing items for sale at Portobello Road Market.
The final engagement of the day took us next door to the Kensington Leisure Centre. Formerly the site of tiny Wills' and Harry's swimming lessons, the new facility will offer a sports complex in the middle of metropolis.
The Kensington Leisure Centre will offer three swimming pools, a 120-station gym, an eight-court multi-use hall, and dance studio to the community. Many private schools will use the Leisure Centre for their physical education courses.
Tim Ahern, the Kensington council's Cabinet member, invited Kate to bring George to the pool for swimming lessons any time she wanted. George also received a few presents during the visit, including an inflatable rubber ducky and an embroidered gym bag.
The Duchess of Cambridge toured the facilities, which open in March, and met with volunteers and staff. She spoke with 17-year-old McDonagh and admitted that Royal Baby #2 was kicking around all the time. Oh the excitement!!!
Kate looked smashing today in a baby blue ensemble by Seraphine. Similar to Kate's purple coat from the NYC trip, these items were made specifically for her and will later become available to the public.
Kate's baby blue collarless coat is called
the "Natasha" coat
. It features a collarless neckline, mother of pearl buttons, and faux pockets. The color is described as "soft mist blue."
Beneath the coat, Kate wore a beautiful watercolor dress.
The "Florrie" dress
by Seraphine will be part of their Luxe collection. The dress is made of digitally printed crepe de chine in "marine ocean shades."
Kate accessorized with her Alexander McQueen suede pumps, Stuart Weitzman for Russell and Bromley suede clutch, Cartier watch, and green amethyst Kiki McDonough drop earrings.
Along with a stellar ensemble, the Duchess of Cambridge really shined at today's events. She is clearly very passionate about supporting less privileged children, students, and families.
GET KATE'S LOOK
Christine is the editor of What Would Kate Do? and The Refined Side. When she isn't writing, she can be found reading with a cup of tea. Her interests lie in history, etiquette, and consumer culture. She resides in Washington, D.C.
Latest posts by Christine (see all)