The Duchess of Cambridge attended the official launch of East Anglia Children's Hospice's (EACH) Appeal for a £10 million state-of-the-art hospice. EACH currently runs an outdated hospice in Quidenham, but the new facility would provide a much-needed upgrade to the support and services provided.
The Duchess of Cambridge became a Royal Patron of EACH in January 2012. The children's palliative care charity was one of her first charities and is sometimes considered her most popular patronage. Kate has worked very closely with children's hospices and campaigned for children's palliative care in the UK and abroad on Royal Tours.

Today's events focused on raising awareness for EACH and their Norfolk Appeal. The hospice – referred to as "The Nook" – would provide the most current technologies and services in children's palliative care. At today's event, EACH organizers provided a glimpse into the upcoming facility with their virtual tour.
Also at today's event, we learned more about the invaluable support that EACH gives to parents and children every day. Leigh Smith's daughter, Beatrice, was diagnosed with a rare heart condition at two months old. EACH helped Smith to provide the best care and support during Beatrice's short life. Sadly, Beatrice passed away when she was 89 days old.
Leigh spoke at today's appeal, and shared that the Duchess of Cambridge sent a heartfelt letter to her after her daughter's passing. Kate's dedication and support for the families at EACH is evident in these frequent letters to grieving parents and visits to EACH facilities and events.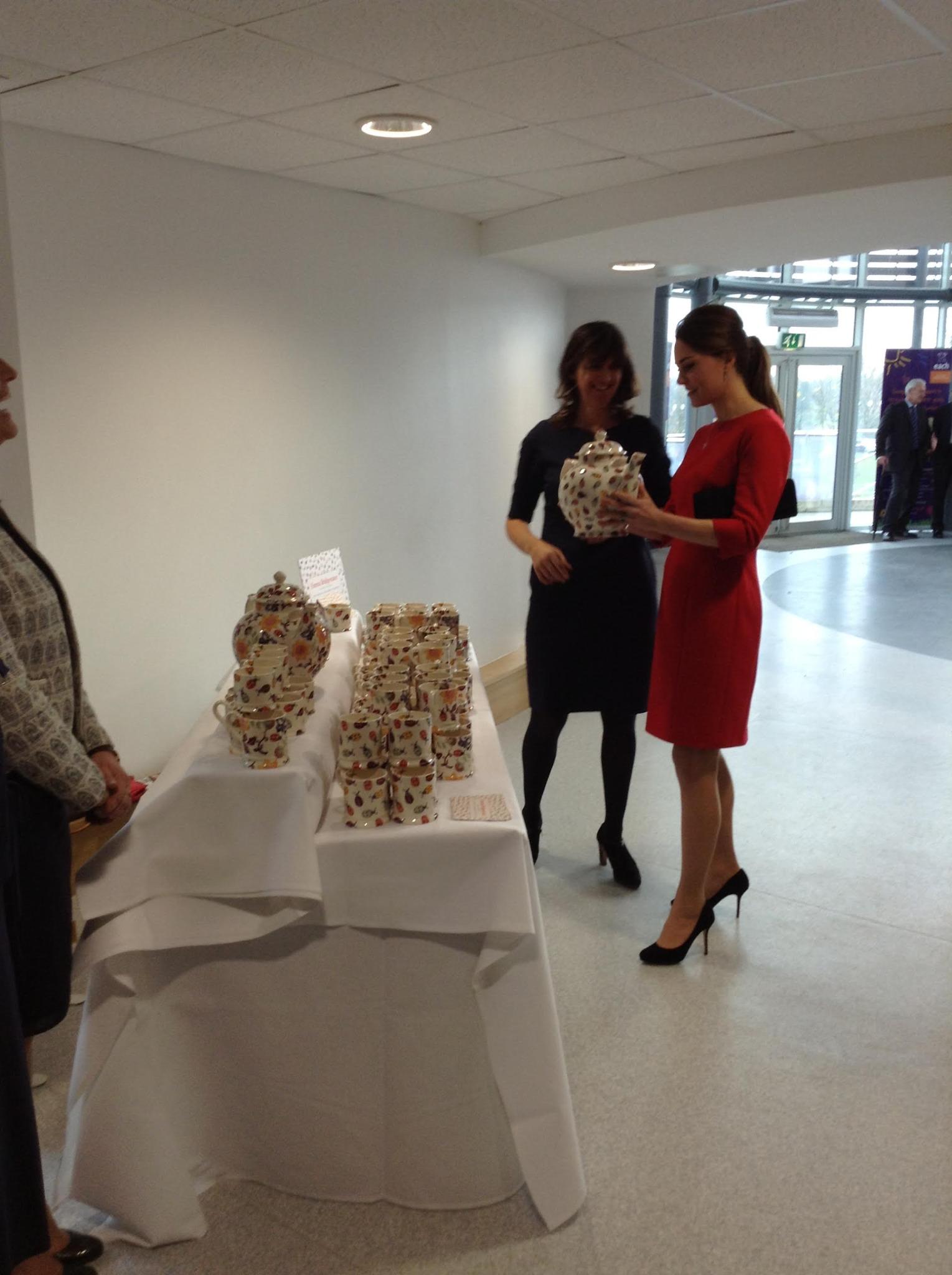 Image via @ClarenceHouse on Twitter
To further show her support, the Duchess of Cambridge privately contacted Emma Bridgewater, a well-known pottery and homewares designer, to create a special set of china to support the appeal. The bone china features two coordinating patterns – a ladybug pattern and a floral pattern, which Kate helped design.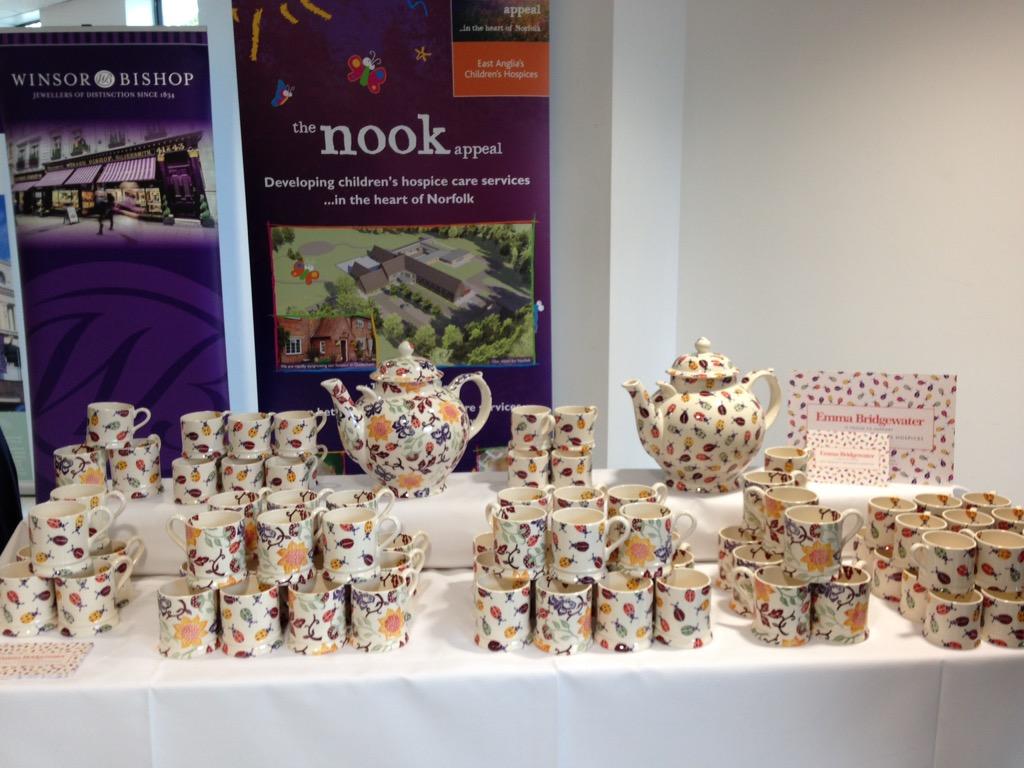 Image via @ByEmilyAndrews on Twitter
The mugs and teapots will be available for sale in the new year, with March being a target release date. £5 from each sale will go directly to "The Nook" appeal. We will keep WWKD readers fully updated on these items – right after we buy some for ourselves!

The Duchess of Cambridge looked lovely today in a red frock by Katharine Hooker. The dress was a bespoke style similar to the "Aspen" in a custom color and fabric. The shift-style dress was extremely flattering to Kate's pregnant figure, showing barely a hint of a bump!
Kate chose very simple accessories for today's event. She wore her Jimmy Choo "Aimee" pumps and carried her Stuart Weitzman "Muse" clutch. The Duchess added a touch of sparkle with her Mappin & Webb Fortune necklace and Kiki McDonough green amethyst earrings. A voluminous ponytail finished off the look.
Today's events in Norfolk are a wonderful example of Kate's power and influence. Her decision to attend today's events, show her support to EACH, design custom pottery for the appeal, and regularly reach out to bereaving families is a sign of her dedication to her work. Even when we don't see her, she is behind the scenes making a difference.
Here are some ideas from EACH to raise money for the The Nook Appeal:
This Christmas time we're asking the people of Norfolk to give £10 to EACH. If everyone in Norfolk did this, the money raised by this foundation appeal would enable us to start to build our new hospice.
You can do this in a number of different ways:
Text NOOK10 + £10 to 70070
Donate £10 at justgiving.com/thenookappeal
Send £10 to the Norfolk fundraising team with your name and address to help us build a new hospice
Instead of buying a toy for EACH this Christmas, donate £10 to our nook foundation appeal
Ask us for a collection box and save your loose coins until you have reached £10 and then send the money to EACH
Hold a coffee and mince pie morning for your friends at home or work and ask them for a £10 donation for coming
Rather than sending Christmas cards around the office this year make a donation of £10 to EACH instead – we can send you a big card for
everyone to sign and put on your notice board
Ask your child's school to hold a Christmas Jumper Day for EACH and ask the children to donate £1 each
Christine is the editor of What Would Kate Do? and The Refined Side. When she isn't writing, she can be found reading with a cup of tea. Her interests lie in history, etiquette, and consumer culture. She resides in Washington, D.C.
Latest posts by Christine (see all)