There is no denying that Kate loves her Kiki McDonough Classic Citrine Pear Drop earrings. She has worn them continuous over the past 4+ years to high profile events and out to grocery shop. They have proven to be one of the most versatile pairs of earrings she owns, coordinating with custom McQueen and J. Brand jeans. Seriously – everyone loves these earrings, and we constantly get requests for repliKates.

On Kiki McDonough's website, the earrings are described as "a 
simple and extremely wearable style, these earrings feature a pear drop citrine set in 18ct yellow gold, perfect for adding a touch of colour to the face." The golden citrine stone is extremely versatile and they add a touch of golden light to the face. 
Kate's citrine drops retail for $740 at Neiman Marcus, which may be too steep for some wallets. The Kiki McDonough earrings are beautiful quality and the price matches their craftsmanship, but perhaps a repliKate would suit you and your bank account better.
These earrings feature the same pear drop shape and style, with a little added detail in the link chain. They are 10K gold plated over silver with citrine stones. At $125, they aren't a steal – but the gold plating and genuine stone makes them a lovely investment. Purchase them here.
These earrings aren't a perfect match, but if you prefer a clear stone for more versatility, these are perfect. At $75, they won't kill your wallet. These are perfect for a casual day or a night out. The earring is rhodium plated metal with crystal glass and cubic zirconia stones. Purchase them here.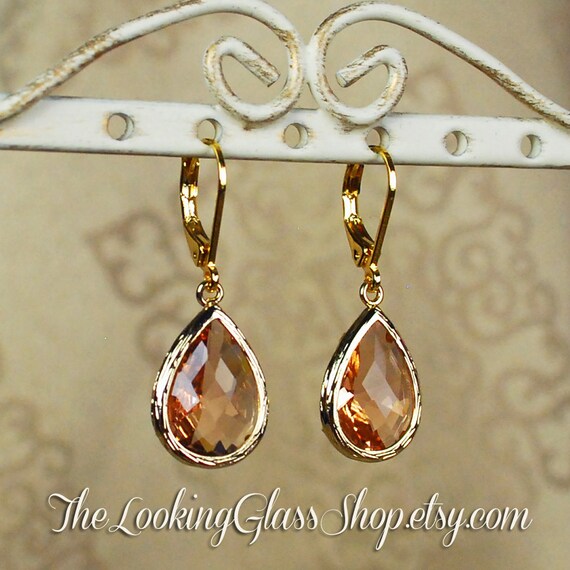 Who doesn't love Etsy!? A quick search provides 80 different pairs of earrings, perfect for repliKates. We love these from Tudor Shoppe, or this pair from The Looking Glass Shop (seen above). At less than $20, it is hard to resist. Both of these sellers specialize in replIKate jewelry, providing stunning, quality lookalike pieces that you will love.
The price of these earrings ($4.99 plus free shipping!) seems almost too good to be true. These gold plated earrings feature glass stones, but the attention to detail and accuracy is amazing. They feature the same clasp and similar setting to Kiki's earrings. I couldn't resist this pair, and will certainly be sharing their quality once they arrive! Kate's Closet found this pair, and a few more, so check them out, too! Purchase this pair here.
Do you love Kate's citrine drop earrings? Do you have a repliKate pair of your own? Let us know what you think!
Christine is the editor of What Would Kate Do? and The Refined Side. When she isn't writing, she can be found reading with a cup of tea. Her interests lie in history, etiquette, and consumer culture. She resides in Washington, D.C.
Latest posts by Christine (see all)