Today was a fabulous day for the Royal Tour, with plenty of opportunities for Kate to shine! The Duke and Duchess of Cambridge spent a full day in Sydney, exploring some very iconic and some highly important landmarks in Australian society.
The first stop was the massive, celebratory Sydney Royal Easter Show – a state fair on steroids. William and Kate will visit the agricultural stands and art displays. Then, the duo will visit Bear Cottage Children's Hospice – one of two children's hospices in the country . Children's hospices have become a personal mission for the Duchess of Cambridge, who truly shines while visiting them. In the afternoon, William and Kate will visit Manly Beach, an iconic beach near Sydney. They will view a surf live-saving display and meet with lifeguards.
Royal Easter Show
The first event of the day was the Royal Easter Show. The massive fair, consisting of agricultural shows, cultural displays, concerts, rides, games, and performances, has been a Sydney institution since 1823.
The Duke and Duchess viewed the various agricultural and live animal displays. Kate was guided through a display of massive gourds and other vegetables. Outside, Their Royal Highnesses viewed the baby sheep and other livestock on display.
William and Kate also viewed the arts and crafts displays. Local artists and crafters displayed their works in a large gallery-style setting. One display was of hatwear and millinery – we wonder if Kate saw any she liked!
After viewing the various shows and displays, the Duke and Duchess met with the hordes of people who had gathered to see them. Many were eager to meet William and Kate on their walkabout.
Kate wore a white cotton lace dress by Australian designer Zimmermann. The dress is from their S/S 14 collection and is expected to go on sale this summer. She accessorized with her Stuart Weitzman "Minx" wedges, much to the delight of many royal watchers who love these shoes.
Bear Cottage Children's Hospice
William and Catherine popped back to Admiralty House for a quick lunch and visit with Prince George. For their second event of the day, William and Kate visited Bear Cottage Children's Hospice. The hospice is one of two in Australia and the only one in New South Wales. It is hoped that the Duchess' visit will inspire more to be established.

In England, Kate works very closely with East Anglia Children's Hospice, visiting numerous local hospices on official engagements. Previously, Kate opened Hospis Malaysia in 2012 and more recently visited Rainbow Place Children's Hospice in New Zealand.
At Bear Cottage, the Duke and Duchess of Cambridge met with youngsters and their families. They greeted staff and nurses while touring the facilities.
The Duchess of Cambridge gave a short speech at the event. It is one of the few speeches Catherine has delivered, and in it she thanked the people of Australia for their warm welcome and commended Bear Cottage on their work.
Manly Beach
For the final event of the day, William and Catherine visited Manly Beach. Manly Beach, as the name implies, was filled with manly men in "budgie smugglers" – tight male speedo swimsuits. It was a stark difference from the sheep and young children they visited with earlier.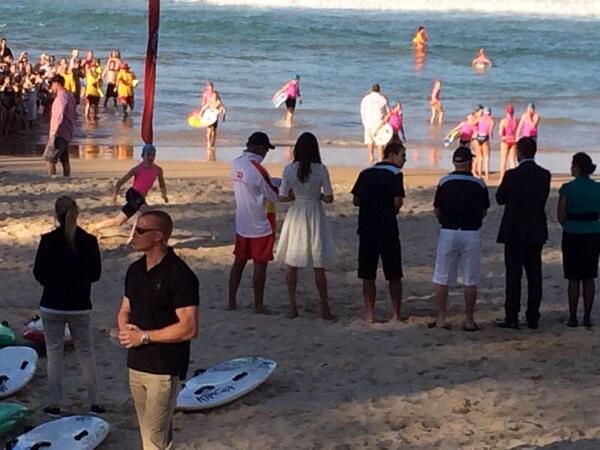 Manly Beach has a very popular and powerful lifesaving (more commonly known in America as lifeguards) program. Sydney is filled with surfers throughout the year, so surf live saving efforts are extremely important.

Hordes of people came to the beach to see the Duke and Duchess. Some even stood knee-deep in the ocean to catch a glimpse of the royal couple. Their first stop at the event was to greet the crowds on a walkabout.
The Duke and Duchess of Cambridge met with lifeguards and viewed surf live saving displays. It is said that these people save over 200 lives every year.
Prince George was sorely missed at today's events, but the Manly Beach lifesaving team kept him in mind. They gifted him with a custom, personalized surf board that he will hopefully use one day upon return to Australia. William and Kate also accepted a pair of teeny tiny Budgie Smugglers for the wee prince.
Kate wore her Zimmermann dress and Stuart Weitzman for Russell and Bromley wedges throughout the day. She really showed us how its done when she walked effortlessly on the sandy beach in sky-high wedges!
Christine is the editor of What Would Kate Do? and The Refined Side. When she isn't writing, she can be found reading with a cup of tea. Her interests lie in history, etiquette, and consumer culture. She resides in Washington, D.C.
Latest posts by Christine (see all)