Today, the Cambridges departed for a two-day mini-break away from Wellington (and Cheeks, who stayed with his nanny). The trip began in Dunedin and Queenstown, where the Duke and Duchess scheduled a series of very fun events.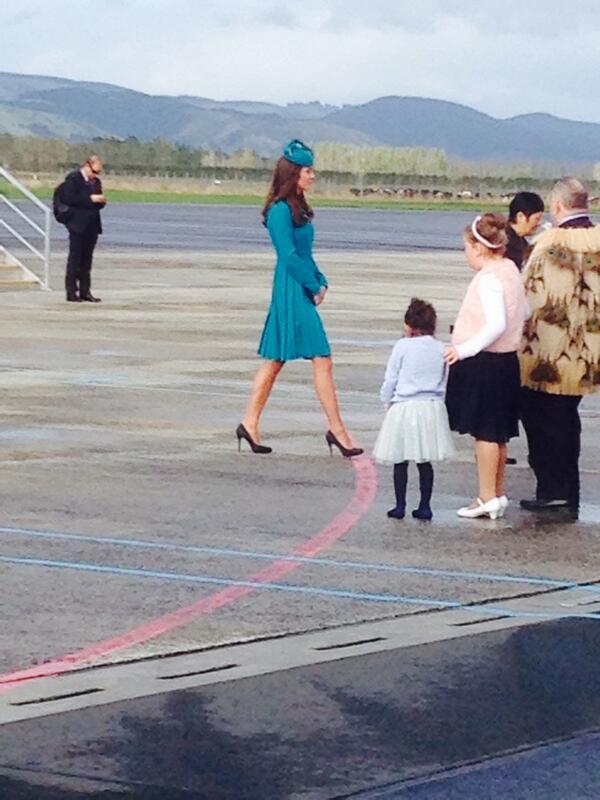 The first unofficial event of the day was the arrival at Dunedin airport. Kate and William enjoyed a traditional Maori welcoming and greeting by locals. One girl in particular received a very sweet hug from the duchess.
For Kate's first events of the day, she wore a stunning teal dress by Emilia Wickstead and matching hat by Jane Taylor. The dress is an exact copy of Kate's pink pleated dress, seen at the Queen's Garden Party in 2012. It is worth noting that Wickstead was born and raised in New Zealand. The Duchess of Cambridge appropriately accessorized with the fern brooch, seen previously on this tour. Her shoes and clutch were brown suede pieces by Emmy.
Palm Sunday Church Service
Today's first event was a Palm Sunday Service and Holy Communion at the Cathedral Church of St. Paul. William and Catherine attended a service with a church-full of locals. Residents of Dunedin applied for tickets to attend the church service with the royals. It was no doubt an incredible experience for the lucky ticketholders.
The traditional church service lasted about an hour.The service is known as a "Choral Eucharist," which is a traditional Anglican mass consisting of hymns, a sermon, and holy communion.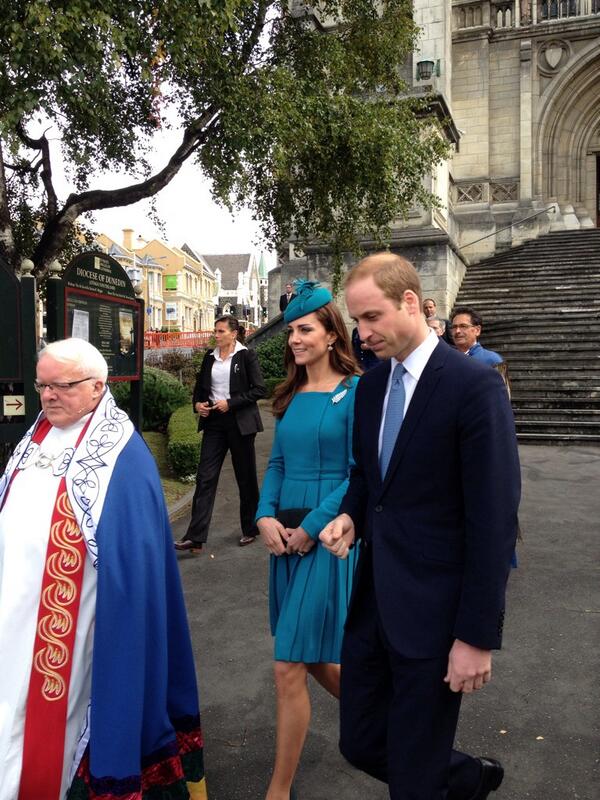 Many were pleased to see William and Kate attending a religious event very publicly. William will one day be the head of the Anglican church, so religion and religious services are an important part of their lives.
The service ran about fifteen minutes later than expected, but not even royals can rush a priest! After the church service ended, William and Kate greeted members of the public who had gathered outside to see them.
Rippa Rugby Tournament
After the impromptu and brief walkabout, Wills and Kate headed to Forsyth Barr stadium. At the stadium, William and Kate partook in a Rippa Rugby tournament. Rippa Rugby is a modified form of the game for youngsters, where tags are ripped from a belt (similar to American flag football).
William was pretty determined to avenge his loss in Auckland, but we were confident Kate would come out on top. Sadly, William was victorious with a score of 30-20.
Kate was a great coached, and really engaged in her team. She spent her time chatting with them and encouraging them in their game.
Kate looks casual yet chic in
a ribbed white and peach sweater by Jonathan Saunders
(thanks to Sarah at
@mismatchedsocks
!), Zara skinny jeans and Mint Velvet plimsolls. The outfit was perfect to throw on and coach from the field, and it also perfect to repliKate in everyday life!
Winery Tasting
After a short flight to Queenstown, the Duke and Duchess continued their sunny, activity-filled day with a trip to Amisfield Winery. The Otago region is renowned for its wines. It wouldn't be a visit to New Zealand without a winery tasting.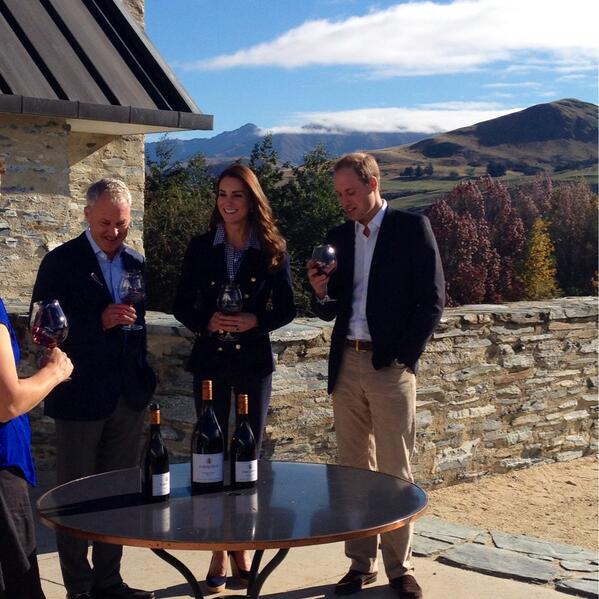 The Duke and Duchess of Cambridge toured the Amisfield winery, had a wine tasting, and sampled some of the culinary creations. The winery grounds, and Queenstown in general, was picturesquely beautiful.

Kate wore a casual outfit for this event. Her Zara jeans and jacket reappeared (Seen previously on Day 5) along with her Stuart Weitzman Corkswoon wedges. She changed up the look with a blue gingham button down. The look was very preppy and chic!
Shotover Jet
Once they sipped wine and had a snack, the Duke and Duchess of Cambridge went on a special adventure on the Shotover River. New Zealand loves their extreme sports, so it seemed fitting that William and Kate would take a whitewater rafting ride called the "Shotover Jet."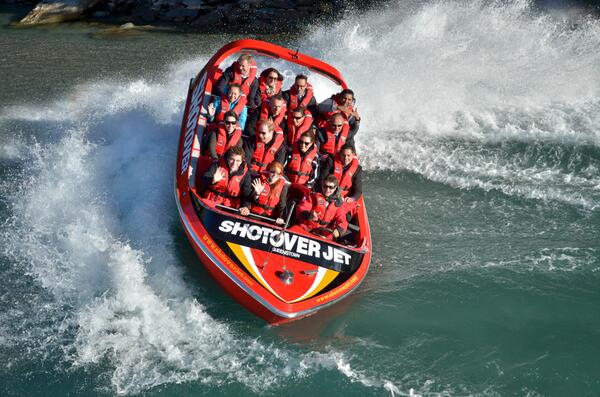 The 50-mile-per-hour rafting ride travels through the scenic canyons of Queenstown's Shotover River. The Duke and Duchess were joined by local young adults and their private secretaries, Rebecca Deacon and Miguel Head.

Kate switched back into her Mint Velvet plimsolls and donned a waterproof jacket by Musto and life vest. The captain of the boat was not shy, despite their royal guests, making the ride very adventurous indeed.
William and Kate really enjoyed the experience, thanking the staff and fellow riders, laughing, and chatting with local children.
TOMORROW
Ngai Tahu Welcome
Christchurch Earthquake Memorial Moment
Cricket World Cup Event
Opening of the Botanical Gardens
Future Focus Luncheon