Today, Wills and Kate parted their separate ways for a while on their first event in Waikato. While William spent the morning at the Pacific Aerospace Centre at Hamilton Airport, viewing the manufacturing plant and static aircraft display, Kate visited the Rainbow Place Children's Hospice.
Later, the Duke and Duchess of Cambridge reunited in the town of Cambridge – appropriately. They will tour the town center and pay their respects at the War Memorial. In the afternoon, they will open the Avantidrome, a new biking center velodrome.
Rainbow Place Children's Hospice
First on the agenda for today was a visit to Rainbow Place Children's Hospice in Hamilton. In connection with her patronage of East Anglia Children's Hospice, Kate will visit the palliative care center. It has been said that children's illness has become Kate's special cause.
The Duchess of Cambridge always shines at these particular events, and this was no exception. Kate met with nurses and staff before greeting children and their families. Meeting the Duchess – to them, a real-life fairytale princess – is an uplifting, encouraging, and very special event for these families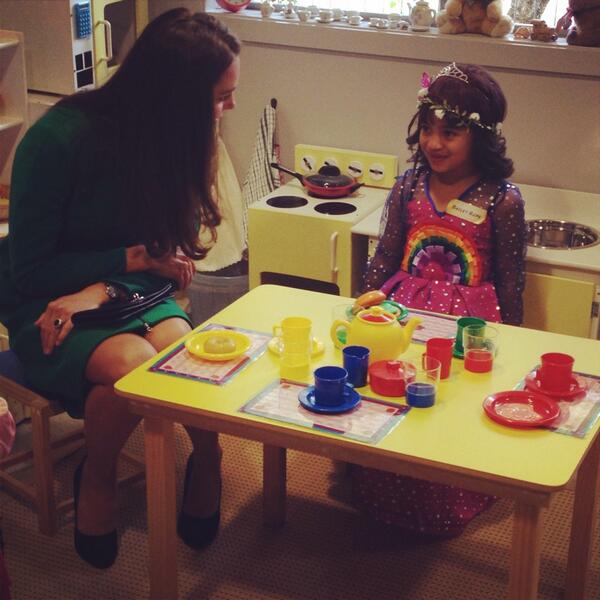 The children and guests, especially 6-year-old Kaiya Miller (who had a special dress just for today's event!), enjoyed an Alice-in-Wonderland themed tea party on the grounds on the hospice. She stayed for a little over an hour, enjoying the festivities and greeting children and families.
Kate wore a green coat by Erdem, featuring a Peter Pan collar and silver zipper. The coat was already sold out, but originally retailed for over $3,000.  Underneath her coat, Kate wore a green chiffon tea dress by London-based designer Suzannah. She accessorized with black suede pumps and a matching clutch.
Cambridge Visit
Shortly after 12:45 local time, the Duke and Duchess of Cambridge arrived in the town of Cambridge. Cambridge, near Waikato, was named after the second Duke of Cambridge (not William – another one).
In Cambridge, the Cambridges drove through the center of town for today's events. Over 10,000 people lined the streets to see and meet William and Kate.
After meeting with dignitaries and hearing the screaming cheers of locals, William and Kate attended a brief luncheon at the town hall.
Outside, they paid their respects to fallen soldiers at the town war memorial. The Duke and Duchess each laid a single red rose on the memorial statue.
Finally, after waiting hours, the crowds got what they came for. William and Kate started a very long walkabout, greeting as many hands as they could.
Avantidrome
The final event of the day took place at the new national velodrome, called the Avantidrome, located in Hamilton. New Zealand notably excels in cycling and BMX sports.
While at the Avantidrome, the Duke and Duchess of Cambridge started a few biking races, met with Olympic athletes and viewed the facilities.
At this event, the Duke and Duchess of Cambridge received a gift for Prince George (Cheeks!). Their son received a miniature bicycle, which he will surely enjoy around the Kensington Palace gardens in a few years.
TOMORROW
Arrival at Dunedin Airport
Church Service at the Cathedral Church of St. Paul
Rippa Rugby Game
Tour and Tasting at Amisfield Winery
Ride the Shotover Jet
Christine is the editor of What Would Kate Do? and The Refined Side. When she isn't writing, she can be found reading with a cup of tea. Her interests lie in history, etiquette, and consumer culture. She resides in Washington, D.C.
Latest posts by Christine (see all)