Lucky number 13! Today, the Duke and Duchess of Cambridge were headed to Brisbane. Queensland was thrilled for their arrival, with the local Queensland Courier providing readers with a poster and tiara.
Wills and Kate are headed to the Royal Australian Air Force Base Amberley in Brisbane to meet with military personnel and families. Afterwards, they will attend a reception hosted by the Governor and Premier.
Kate was spotted wearing the LK Bennett "Poppy dress" in Snorkel blue while en route to Brisbane. The white dress features bright blue poppies – a perfect choice for a visit to an Air Force Base.
RAAF Amberley Visit
The Duke and Duchess of Cambridge visited Royal Australian Air Force Base Amberley, which is situated about an hour outside Brisbane. William, along with Catherine and Harry, hope to foster a strong relationship with the Australian armed forces through these events.
The Duke and Duchess arrived shortly after 11 a.m. local time on a warm, sunny day. First on the agenda was an Inspection of the Guard, performed by William while Kate looked on proudly.
While at the air force base, William and Kate met with military personnel and their families. They viewed various RAAF aircrafts and met with the crews who fly and support the planes. While touring the aircraft, Kate took the opportunity to climb inside and press some buttons!
The Duke and Duchess of Cambridge visited Amberley's Memorial Garden, where they paid their respects and planted a tree in memory of Australia's fallen soldiers.
The next event took place in the officer's mess, where Their Royal Highnesses enjoyed a private luncheon in the officer's mess.
Kate chose a white dress with blue poppies on it from LK Bennett, as mentioned above. She accessorized with navy suede Alexander McQueen pumps, sapphire drop earrings, Cartier watch and Mappin & Webb necklace. She also carried a blue box clutch by Oroton.
Brisbane Reception
The Duke and Duchess of Cambridge attended an afternoon reception hosted by the Governor and Premier of Queensland. This was one of the more casual receptions that they will attend.
The focus of the luncheon was for William and Catherine to connect with the young people of Queensland. The guest lists was drawn from youth, adolescents, and young adults from a variety of walks of life and interests.
We always wonder what one feeds royals  – and now we know! Today's menu featured cucumber sandwiches, chicken confit, and tropical fruit tarts!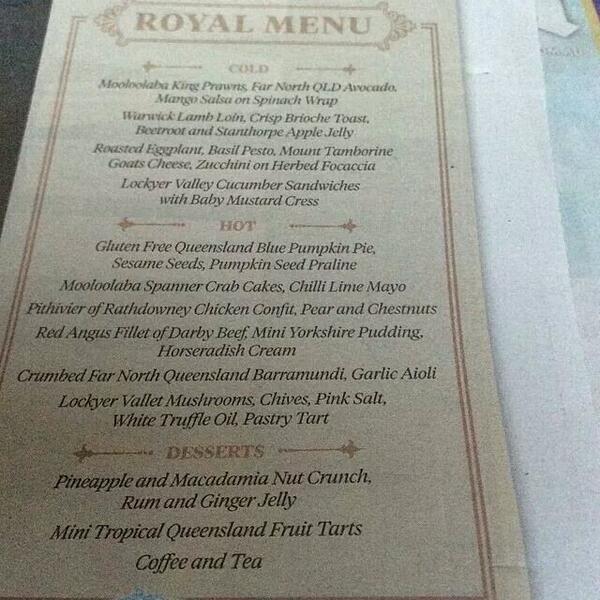 Today's luncheon was hosted at the Brisbane Convention Centre, which is situated in the literal center of the city. Hundreds of people crowded the streets to meet William and Catherine.

After the luncheon, William and Kate did a walkabout to meet with the hordes of people who came out to see them.
Rugby Match
After a long, hot day of touring planes and meeting people, William and Kate took an opportunity to relax and have a bit of fun.

The Duke and Duchess of Cambridge were spotted at Waratahs v Bulls rugby match in the afternoon. It was a great way for them to relax and unwind. At one point, a very sleepy Kate cuddled up to her husband (we know, so cute).
Kate was wearing a grey sweater (looks to be Zara, but that is totally unconfirmed),
grey and blue print scarf by Beulah London
, and sapphire earrings. She also wore skinny jeans and grey Mint Velvet plimsolls as well.
TOMORROW
Easter Sunday Service
Taronga Zoo (with Cheeks!)