After a glamorous reception in Wellington today, the Duke and Duchess of Cambridge jetted off to Auckland for a more low-key schedule of events. An exciting day for royal watchers – today will show Kate and William in a more relaxed reception with military servicemen before letting their competitive sides shine in Auckland Harbor.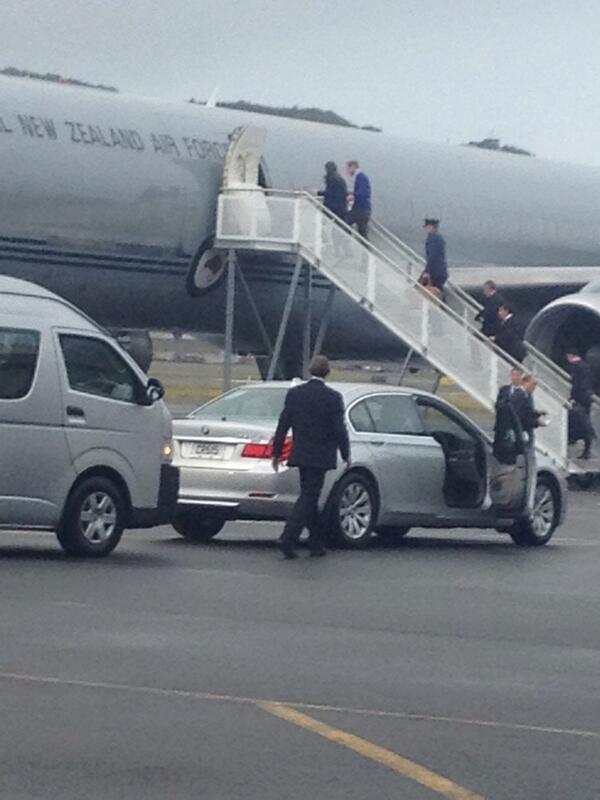 via @DuchessSpotting on Twitter
The Duke and Duchess of Cambridge departed on a RNZAF plane from Wellington around 10:20. We caught a glimpse of Kate in wedges (likely her Stuart Weitzman Corkswoon), skinny jeans and navy blazer (likely her Smythe blazer).
 RNZAF Base Whenuapai Reception
The Duke and Duchess of Cambridge visited RNZAF Base Whenuapai, near Auckland, to meet with service Air Force personnel and their families. William recently finished his duties with the RAF in Anglesey, so this was a great opportunity to share his passion for flying and his RAF duties.
The Royal Couple arrived shortly after 11:20 local time (right on time today!). The formal reception allowed William and Catherine to connect with the guests on a more intimate and casual level.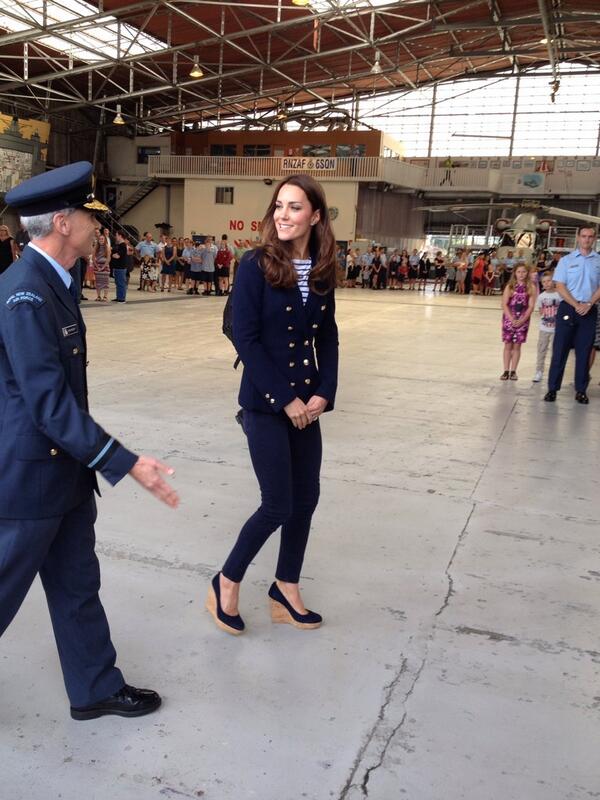 via Twitter
The wives and children of the servicemen and women were delighted to meet Kate, who undoubtedly had tales to share about being a military S/O. Despite her somewhat short tenure as an RAF Wife, she still experienced the same late nights, time apart, fear and anxiety, military requirements and other struggles that each family can relate to.
Kate looked very military-and-nautical chic, wearing a military-style
Zara blazer
and
breton striped top
. The
Zara blazer
has ten gold buttons on the double-breasted bodice.

Kate's breton top
is by London-based Me and Em, and features cobalt blue stripes and three quarter sleeves. She paired the look with skinny jeans and
Stuart Weitzman Corkswoon wedges
.
Emirates Team New Zealand Yachting
After the reception with military families, William and Kate drove through Auckland. Their official drive by through Jellicoe Street and Beaumont Street was a highly anticipated event. Locals began to line the streets hours before the Duke and Duchess were set to arrive. Upon arriving at the harbor, Wills and Kate greeted the crowds during their second walkabout of the tour.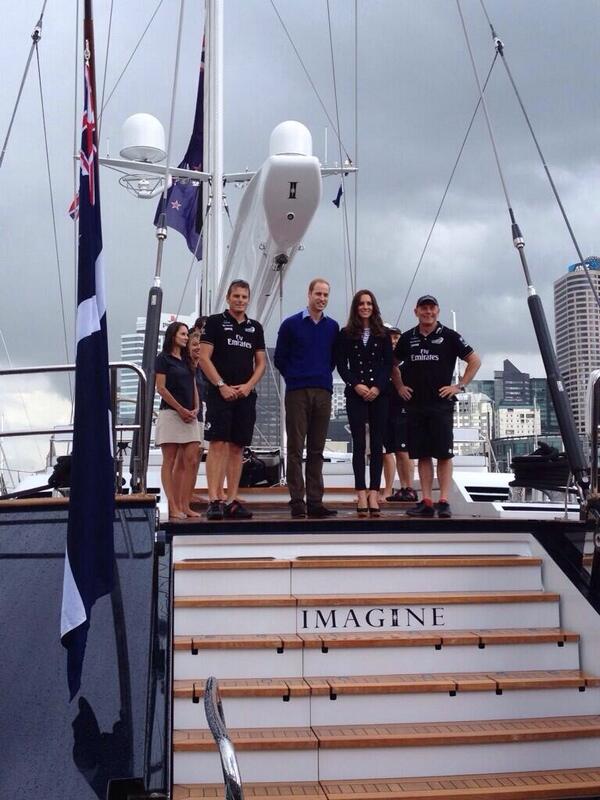 At the very end of the walkabout, the heavens opened and it began to pour. Out of nowhere, umbrellas appeared to save the day (and the hair). William and Kate continued into the harbor to meet the Emirates Team New Zealand. After a lunch served aboard one of the yacht, the Cambridges boarded two boats and prepared for battle.
William and Kate took to the harbor on opposing boats. The couple is notoriously competition, especially with each other. For the boat races, Kate changed into her trusty
Sebago Bala boat shoes
. She donned a white top, life vest, and baseball cap for the sporting event.
The Cambridges set off onto the high seas, with William pulling ahead initially. After an exciting race in the Auckland Harbor, Kate reigned victorious against William – not once, but twice! This settled an old score from 2011 – Will famously beat Kate in a similar race during their North American Tour.
Our girl Kate knows her way around a set of sails, beating Prince William in both races. Kate worked on sailboats during her gap year and has always been a keen rower, so her victory was no surprise.
The Duchess of Cambridge was effortlessly cool on the water, tying her hair up and wearing a baseball cap. She even wore a new pair of sunglasses –
a classic wayfarer style by Ray-Ban
.
Sealegs Event
After Kate kicked some royal butt in the yachting events, the Duke and Duchess of Cambridge took to the seas again – this time with the Sealegs boats. Sealegs are ingenious, amphibious crafts that travel from land to sea.
While at Auckland Harbor, the Duke and Duchess enjoyed a ride on the Sealegs craft. To recover from their heavy competitive races, the couple enjoyed a brief moment of privacy.
Wills and Kate were eager to wave at the crowds still looming from their earlier walkabout. The sunny day and warm weather stuck around for the final event of the day.
After the tour around the harbor and marina, William and Kate decided to do an impromptu walkabout around the docks. Hundreds of well-wishers cheered during the races, so it only seemed right to thank them!
Afterwards, the Duke and Duchess of Cambridge were escorted back to the airport for a plane ride back to Wellington.
Tomorrow
Kate visits Rainbow Place Children's Hospice
The Duke and Duchess of Cambridge will visit the town of Cambridge
Will and Kate will open the Avantidrome